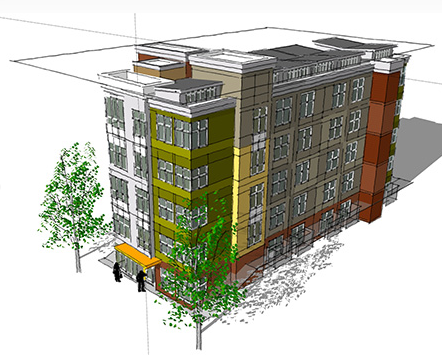 We're all familiar with the idea that Portland is an exceptionally bicycle friendly city, having more cyclists per capita than any other city in the US, mass rides like "The Worst Day of the Year Ride" and Providence Bridge Pedal, and of course local bicycle-based companies like Portland Pedal Power.
Now there's a relatively new idea coming around which has a lot of potential for a city as enthusiastic about cycling as we are. "Parking-Free" apartment buildings have started to pop up in cities like Boston, Seattle, and Miami, and are now starting to make their debut in the Rose City. Portland is currently undergoing a shortage of rental space, being the third shortest of space in the nation. This kind of apartment living may help change that.

"Parking-Free" apartments would be rather small compared to a traditional apartment, boasting 200 – 300 square feet of space. One example of this kind of apartment building is being built on NW Thurman Street. Should you start rent one of these "micro-apartments", you would share a kitchen unit with five other similar units and a convenience center hosting microwaves and refrigerators.
Because of their small size, these buildings fit under the requirement that apartment buildings with more than 30 units have parking spaces. Local transportation advocate Doug Klotz, who opposed the parking requirements, called the plan an interesting way of avoiding the parking minimum, observing, "It's not 50 apartments, it's 10 five-bedroom apartments."
Obviously, this kind of lifestyle isn't for everyone. If you do need a car, the lack of parking could pose a bit of a problem. Space is limited, and in the Thurman example you don't even get your own kitchen. But if you're looking for a low car lifestyle, this might be right up your alley.
It is important to remember the US Census Bureau reported 1 of 4 rental households in Portland don't even own a car. Further, these apartments are located close to mass transit and Zip Car locations, so even if you're not the most active bicyclist in the city, you can still get around easily. The apartment being built on Thurman clearly shows accessibility in its' transportation scores (Walk score: 88, Transit score: 52, Bike score: 93). All things considered, this may be exactly what you're looking for. See for yourself Bikeportland's Housing Index Project tool, designed for those looking for a place to live with a low-car lifestyle in mind.
Would you give up some extra space to live sustainably? Are you already planning on moving to an apartment like this? Let us know on Facebook and Twitter what you think about this kind of option.